A DIVE INTO THE HEART OF LIGNANO SABBIADORO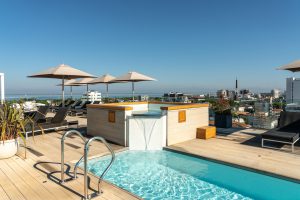 When the sunlight dazzles and warms, when the sea becomes a blue horizon to be admired, it is time to take refuge on the roof of the Bellini relais, from which you can enjoy an incomparable view of the sea and the city and take a dip in the relaxation pool.
Inviting during the day for a pleasant swim and to cool off after a sunbath, fascinating in the evening, when the lights create a magical atmosphere.
A drink by the pool barefoot, a taste break to be consumed with a light snack with a Mediterranean flavor.
It is the holiday that calls for beauty, well-being, relaxation.